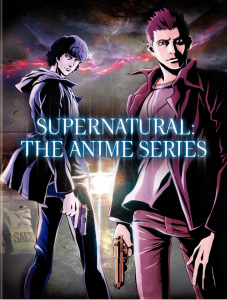 I'm not personally into most of the shows that show up on the CW (with the exception of Nikita, love that show), but I know that Supernatural has a huge fan following. For those of you who are both big into anime, Supernatural, or both, Amazon currently has their Supernatural: the Anime Series DVDs and Blu-Rays marked down over 50% off!
If you're not familiar with Supernatural, check out the trailer below. Note that they're using the Japanese voices, though the English dubbed version has the voices of the original actors Jared Padalecki and Jensen Ackles as their animated counterparts (though it should be noted that Ackles only dubbed select episodes). It should also be noted that while Padalecki and Ackles' characters look like their TV counterparts, the other characters were redesigned.
As of this writing, the pricings are:
Amazon tends to price things according to how popular they are and whether or not a sale is deemed successful, so no idea how long the prices will stick. I've added a price comparison chart below so you can see what it's going for at other merchants, as well as get the current price off of Amazon.com's website.
Product prices and availability are accurate as of Dec 13 16:25:04 UTC but are subject to change. Any price and availability information displayed on the merchant site at the time of purchase will apply to the purchase of this product.