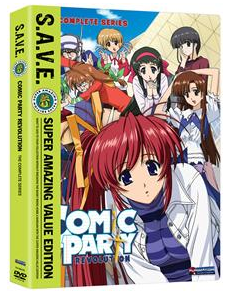 First, an apology to all of you, I missed a great deal to post up on Memorial Day weekend at the Funimation Shop, and I literally saw it three hours before it was closing up, at 5AM Pacific Time on Tuesday. However, I will not happen again!
Or, at least, not too soon………
Anyway, new deal then! The Funimation Shop has a special deal going on where they have (mostly) a ton of their S.A.V.E. edition boxsets up in a Buy 1, Get 1 Free offer! There are about 5 pages worth of anime listed, so there's bound to be something for someone out there. Some noteable items include:
Ah! My Goddess Season 2 – $22.49
Black Blood Brothers – Blu-Ray – $18.74
Blassreiter – $22.48
Heroic Age Blu-Ray – $26.24
Kanon – $22.49
Tsukuyomi Moonphase – $22.49
Peach Girl – $22.49
Ragnarok – $22.49
Shuffle – $22.48
Utawarerumono – $22.49
Welcome to the NHK – $22.49
Find them all here!